What are you shopping for?
Here are some of our favorite items
Vintage 90's Logo Apparel
Single Screen Cinema
The Riverview Theater has been a mainstay in south Minneapolis since 1948. We're a budget theater with style that's been largely unchanged since the 1950s.  We maintain much of our original 50's decor, including imported Italian marble tables, as well as a single screen auditorium that features 700 seats and a backlit proscenium.  While we like to keep up that mid-century feel, we also feature state-of-the-art projection and sound. 
Many of our customers agree with a reviewer from the St. Paul Pioneer Press who stated that we have the best popcorn in town. We don't believe "Golden Flavored Topping" is a proper substitute for the real thing - we use 100% REAL butter. Stop in and pick up some popcorn to go. We give a discount on takeout popcorn.
Visit our Website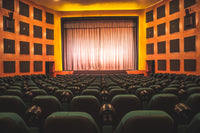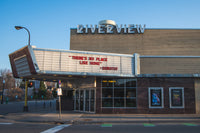 Thank you for supporting us!
As we continue through these difficult times, we greatly appreciate all of the community support you have given us. The Riverview Theater would not exist today without our incredible customers. From buying popcorn-to-go to renting the theater for pandemic private parties, from buying and wearing Riverview emblazoned merchandise to finally purchasing tickets as we get used to movie going once again. You have shown us amazing support and have kept us going.
Thank you all for your continued patronage, please be careful and stay well!